A gimbal head is a tripod head which rotates 360 degrees on the horizontal axis, and has a cantilevered cradle arm (where the camera lens foot is mounted) which swings forward and back. Therefore, the head allows freedom of movement, and aiming the lens in almost any direction. Further, the gimbal is designed to balance the camera and lens combination at their center of gravity, essentially rendering them "weightless." Both axis of rotation usually have a locking knob.
A gimbal head is the perfect solution when you shoot with a very large lens, such as a 500, 600, or 800mm. Because of the way it balances your equipment, when you let go, they will remain in place, even without locking the knobs. The trade-off for this ease of use, is that a gimbal head is generally large and heavy.
Many gimbals, including the excellent Wimberley, have a screw clamp for mounting the lens foot to the cradle arm. I highly recommend getting a lever-release cradle clamp, if possible. Really Right Stuff makes one, which is designed to fit a Wimberley gimbal. For serious wildlife photography, it is a critical piece of equipment; it allows rapid mount and dismount of the camera and lens, making it easy to quickly move from the tripod, to handheld shooting, or to a new shooting spot.
It's critical that you understand how to properly use a gimbal head, because improper use can result in costly damage to your equipment. Follow the instructions carefully for how to balance your setup, then practice mounting and dismounting your camera and lens until it becomes innate. Be aware that different lens, camera, and accessory combinations will require re-balancing.
One of the main drawbacks of a gimbal head is that your images may be crooked if the tripod and head are not level. Having a good bubble level, inset on your tripod, is very useful. If your tripod is not leveled, you may loosen the lens collar, and rotate the lens and camera to level the image as you pan, but this is not practical for fast action.
When it comes to gimbal heads, the Wimberley is among the very best. They have superb build quality, workmanship, and functionality. You can buy a cheap knock-off gimbal head, for a fraction of the cost, but it will not even come close to the perfection that is the Wimberley. I know, because I owned a $150 gimbal, prior to getting the Wimberley. When it comes to photography equipment, "You get what you pay for" is often quite true.
The Wimberley head Version II, a top of the line gimbal head.
Gimbal Head Benefits
Makes camera and lens feel weightless by balancing center of gravity
High quality units have "Smooth as butter" motion in all directions
Good freedom of movement for working subjects in motion
Makes it much easier and more pleasurable to work with super telephoto lenses
Gimbal Head Drawbacks
High quality units are expensive
They are usually large
They are usually heavy
Must be re-adjusted when using a different combination of gear
Difficult to get a level image when working on uneven ground (see below)
Gimbal Head Considerations
They are designed for mounting a lens, not a camera
Buy the best one you can afford. Cheaper units are usually poor quality and don't work well.
A quick-release cradle clamp is recommended, as opposed to a screw clamp.
Practice balancing your gear properly to avoid damage (Wimberley Instruction Manual PDF link)
Re-balance the set up if you add or remove any weight (battery, flash, etc)
Lock the knobs before picking up your tripod with gear attached
Use caution in windy conditions, the rig can rotate itself if not locked down
When possible, level the tripod and head to avoid crooked images. You can also loosen lens collar and rotate lens.
Recommended Gimbal Head Equipment For Fine Art Nature Photography
Fine Art Nature Images Created With A Gimbal Head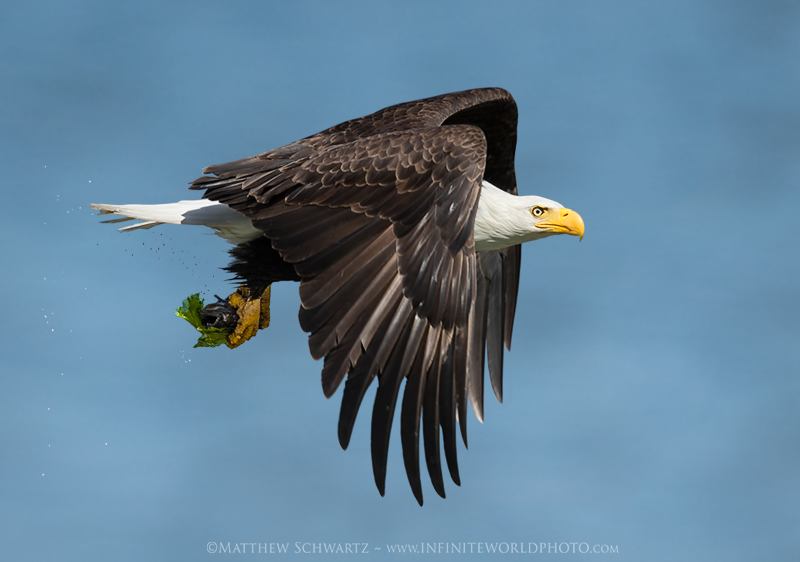 A gimbal head is useful for working with moving wildlife subjects, such as this Bald Eagle in flight. When standing in one place for a long time, using my Canon 500mm F4 IS II lens, I was able to let the gimbal head do the "heavy lifting." When the action picked up, I could then track my subject freely, with the smooth and fluid range of motion of the gimbal.
Image © Matthew Schwartz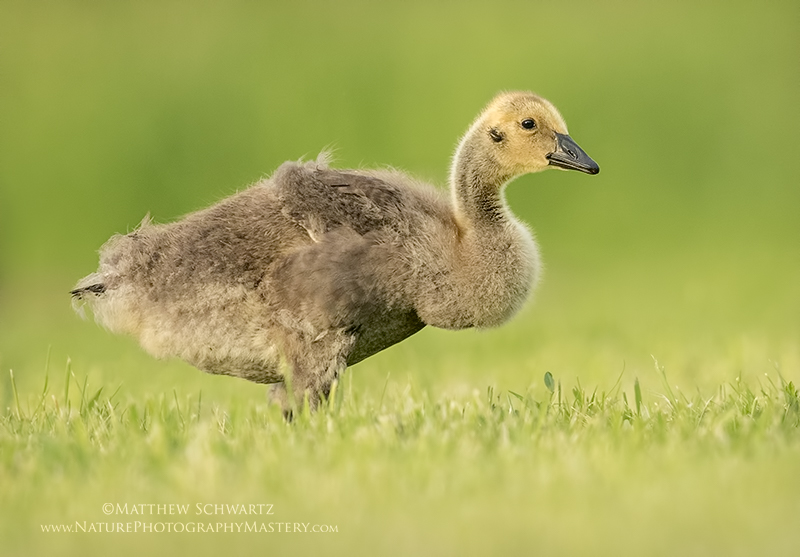 Lying prone on the ground for a low angle photo of this gosling, I needed a support for my camera which allowed me to easily aim my lens using only my forearms and fingers. A gimbal was the perfect solution, and was mounted on a Naturescapes Skimmer Pod for the lowest possible point of view.
Image © Matthew Schwartz